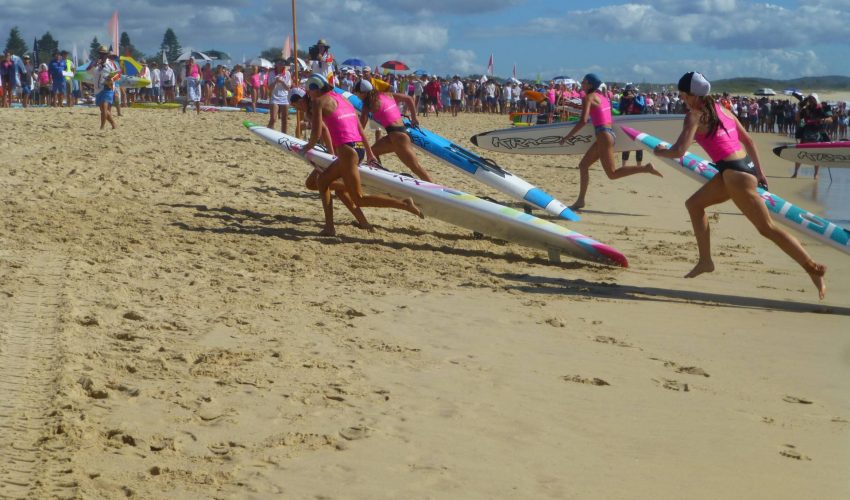 Sawtell Competes at 2018 State Championships
From 02 – 11 March 18, Surf Life Saving NSW, with support from Your Local Club, hosted the NSW State Championships – again at Swansea Belmont's Blacksmith's Beach.  The event attracted over 6000 competitors, many of whom were either chasing medals, beating their rival clubs or simply being a part of the excitement and atmosphere.     In varying conditions, several Sawtell members also tested their racing skills over the week and the competition was hot.   It's often quite a surprise for members of country clubs like Sawtell to see the strength and success of the bigger clubs, but Sawtell's competitors gave the big clubs a reason to be concerned, with many making the finals and several even winning medals.  Checkout the SLS NSW Facebook page for photos.
State Champ's March 2018 – Senior Competition Report
Sheena McTackett and Nataleigh Hoban were the only Masters to compete at Swansea Belmont this year. They came away with a Bronze Medal in the Board Rescue in challenging conditions plus a 5th place for Sheena in the Board Race. What a mighty effort from our President!
Our Senior competitors also were faced with challenging conditions and a decent swell. Emily Meacham was our best placed competitor winning the U15 Board Race followed closely by Alyssa Golding in 5th place. What an exciting finish it was with 11 girls on the same wave. Emily was also in the swim final placing 20th whilst Alyssa placed 16th in the U15 Ironwoman. Lucy Alkemade placed 17th in her U17 Swim final and Jaydan Stevens 16th in her U19 Ironwoman. The U17 girls, Abby McConnachie, Kate Murray and Lucy placed 7th in their Taplin Relay. Lochie Golding, Aoife Carey, Libby Waugh and Orla Carey all made it to Semi Finals in either their Board Race, Swim or Ski events.
https://www.facebook.com/pg/surflifesavingnsw/photos/?ref=page_internal