Sawtell Competes at the Australian Championships in Perth.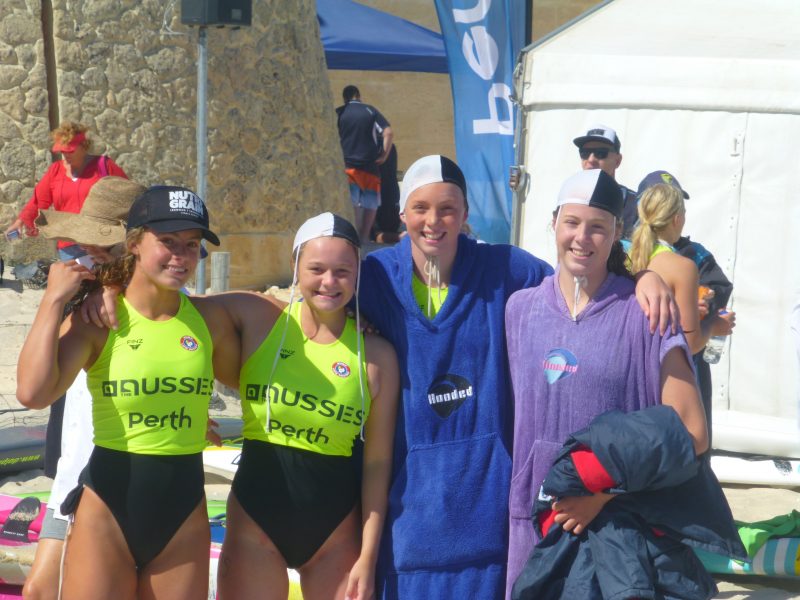 Aussies April 2018 – Scarborough – Senior Competition Report
We had a team of 6 head over to Scarborough Beach WA to compete at the Australian Titles this year. Alyssa, Emily, Aoife, Libby and Orla contesting the Board, Swim and Ironwoman, Board Relay, Board Rescue and Cameron Events. James Hill competed in the U15 Surfing which was held at Trigg Beach north of Scarborough. James came away with a Gold Medal. What a great result.
Alyssa placed 6th in the U15 Board Race whilst Emily, Aoife and Alyssa teamed up to place 6th in the Board Relay. The conditions where tricky with a heavy shore dumper and the water was cold. Viewing the racing was superb as Scarborough has recently spent millions on the shore front with areas elevated over the beach. Everyone had a fabulous time and competed to the best of their ability and showed wonderful sportsmanship. They should be proud. Can't wait till next year which will be back on the Gold Coast.
Leigh Golding, Seniors Team Manager