Race Information 2021
2021 COFFS OCEAN SWIMS RESULTS
View the results of the 2021 Coffs Ocean Swims below:
For any queries please email: info@sawtellsurfclub.com.au
General Race Information
ENTRIES
RACE CAP COLLECTION
Sunday 28th March 2021 at the Yacht Club (downstairs) 6.30am-8.45am.
Please ensure you are registered and numbered at least 30 minutes prior to your race start.
SCHEDULE
8.00am – 600m Jetty Swim $30
8:00am Females, 8:15am Males
1 lap around the Jetty structure. Minimum Age 10 as at 28/03/21.
8.40am – 150m Junior Ocean Swim $15
8 to 10 Years (Age as at 28/03/21)
This swim starts and finishes on the northern side of the Jetty, around 2 buoys.
9.00am – 300m Junior Ocean Swim $15
11 to 14 Years (Age as at 28/03/21)
This swim starts and finishes on the northern side of the Jetty, around 2 buoys.
9.30am – Beachside Radiology 2000m Swim $40
1 lap inside the harbour. Minimum Age 14 as at 28/03/21.
11.00am – Presentations on the Coffs Harbour Yacht Club Lawn
All place-getters in the 600m & 2000m events will receive a prize.
COURSE MAP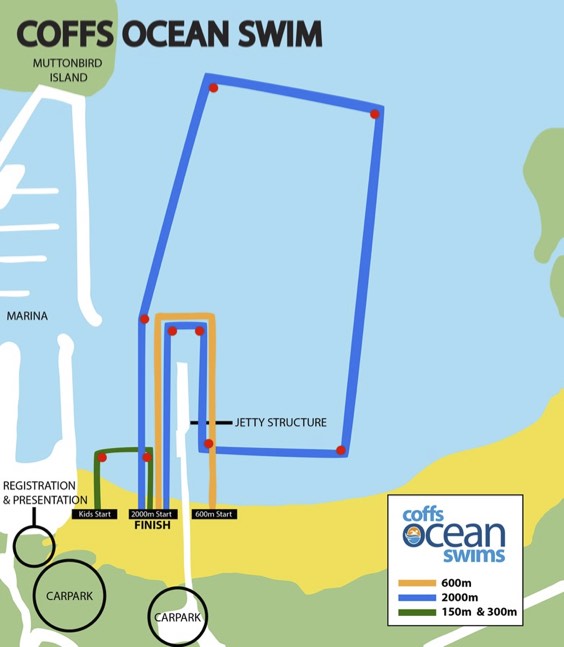 Click here to download a PDF of the different race courses.
RULES AND REGULATIONS
All entrants must read and sign the waiver with your entry form.

Competitors under 18yrs must have a parent or guardian sign the registration form.

Safety craft will be in attendance.
Wetsuits and swimming aids may be permitted, but entrants using these or a buoyancy aid of any description will not be eligible for an official result placing.
Oceanswims.com Code of Conduc
t
Come prepared.

Follow any reasonable instruction from volunteers and safety personnel.
Accept the rules and conditions of the swim and understand the risks you are taking.
Ask questions and seek clarification if you are unsure about the course or other details.
Respect the safety of others.
Be honest with your abilities and understand your limitations.
Do not deliberately hinder others in the swim by blocking or kicking.
Take reasonable care not to injure others, particularly when rounding buoys.
Do not be overtly aggressive and do not interfere with other swimmers.
Seek help if you need it; stop to assist people in distress.
Respect and applaud the efforts of organisers, volunteers, sponsors and other swimmers.
Provide constructive feedback to organiser.
Leave nothing but your footprints behind.
Cancellations/Refunds
There are NO refunds for non-starters or non-finishers. This is a charity fundraising event and in order to keep entry fees low we do not allow for refunds. When you enter online, you are accepting the terms and conditions of entry 'Once my Entry Application has been accepted, I am not entitled to a refund or credit of any nature, including cancellation of the Event, or races within the Event due to bad weather, personal circumstances, bereavement, hardship or any other reason whatsoever'.


ENQUIRIES
Email: info@sawtellsurfclub.com.au
LOOKING FOR ACCOMMODATION OR ACTIVITIES IN COFFS?
Click HERE to visit the Coffs Coast tourism website, which offers a wide range of accommodation options, as well as a variety of things to do across the region while you are visiting.