Bunnings Support for Sawtell SLSC
The Club is indebted to Bunnings for their generosity in providing the Club with 4 items of gardening equipment which will prove invaluable with the growing season upon us and the current worn-out state of our existing equipment.
Thanks go to Kerry Bayliss for his efforts in obtaining this support
As both members and the community are aware the Clubhouse surrounds are kept in tip-top shape largely due to the efforts of Life Member and volunteer Head Groundsman Mick McGavigan who takes great pride in what he does.
With work now underway by CHCC on a new platform, the Sawtell community and visitors to our area can but only be impressed of the efforts in having the area look as good as it does.
That Bunnings can see the value of what is being done and are prepared to assist is great.
Depicted below is: the equipment provided by Bunnings; Head Groundsman  Mick McGavigan; and fellow so-named "9 o'clock swimmers"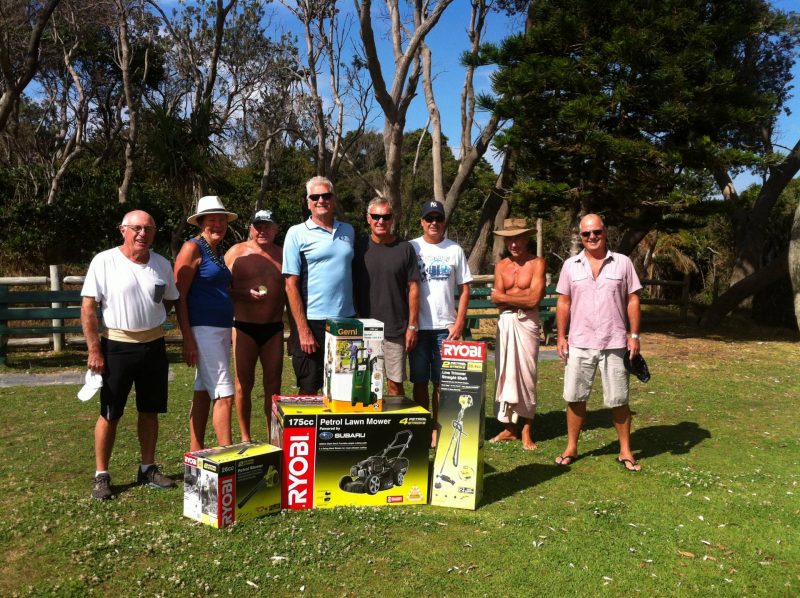 This group, who will assist Mick if asked, comprising past active and associate members of our Club, enjoy a daily swim from the island to the clubhouse throughout the year. A benefit in having this group especially over winter is they are on hand for a couple of hours each morning should members of the public find themselves in difficulty.
All members, not otherwise tied up, are always welcome to join this group. If not there is another group that meet at 6am.